The fastest marathon courses are here. 
26.2 miles of right foot, left foot, right foot, left.
Whether you want to get your feet wet, set a PR, or qualify for Boston, choosing a flat, fast course is the way to go. I did my first marathon a decade ago and I'm glad I chose a flat course. I might have thrown in the towel if I had big hills to climb!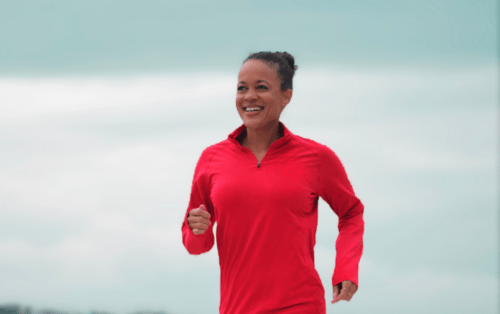 How to Choose your Marathon
It's important to choose a race with perks that will make your experience memorable. Here are some things to consider:
⦁ What temperature suits you? If you overheat easily, choose a marathon in the fall or winter.
⦁ What excites you? Music at every mile? Stunning scenery? Cheering crowds? Free beer?
⦁ When will you start training? Are you ready now? Or is it a goal for next year?
This list of the fastest marathon courses, ordered by month, will help you choose the ideal race. May the speed be with you. xo, Angel
Fastest Marathon Courses
January
Chevron Houston Marathon
If you're a music fan like I am, you'll appreciate the Kickoff Party featuring the Nirvana Experience. From the site: "Rock bands, belly dancers, and Elvis impersonators line the course to entertain and cheer on the runners."
February
Publix A1A Marathon
This is the perfect setting for a beach loving runner like myself. From the site: "Our course features 26.2 miles of signature South Florida beauty, loaded with miles of unobstructed ocean views. It is one of the flattest marathons, ideal for those looking to achieve Boston qualifying times."
Surf City Fastest Marathon Course
The race ends at a beach bar where the celebration begins! From the site: "This award-winning course is considered one of the best courses in the country. It is one of the flattest marathons and is incredibly scenic. The race starts along the Pacific Coast Highway and passes by the famous Huntington Beach pier."
Mesa Phoenix Marathon
There are no uphills on this course! Plus, 26% of runners qualify for Boston. From the website: "Marathon runners will enjoy the diverse scenery from cactus desert to spectacular views of the Phoenix Valley. Runners will experience nearly 1000 feet of net elevation loss in this fast course.
March
Napa Valley Marathon
This race lets you bring your special drinks to be placed at the hydration stations. Fancy! From the site: "Our marathon course is certified as a Boston Qualifier and is a net downhill by over 250 feet." This is one of the fastest marathon courses, great for beginners.
Snickers – Fastest Marathon Course
This flat course ends with a free Music Festival that includes kid activities, bands, and beer. From the site: The Albany race is ranked as one of the top Boston qualifiers in the country. With over 20% of all marathon finishers qualifying, this is one of the nation's fastest marathon courses."
April
Revel Mt Charleston Marathon
At the end of the race, you get race photos and a video reel of your performance – for free! From the site: "This incredibly fast course features a smooth downhill slope and spectacular scenery in the Humboldt-Toiyabe National Forest. This race will help you set your PR and finally hit that Boston Qualifying time as it is the fastest marathon in Nevada."
May
Bayshore Fastest Marathon Course
If you like out-and-back courses, you'll consider this one of the most ideal, flattest marathons. From the site: "This USATF certified course is flat, scenic, and fast making it a favorite for both runners attempting to qualify for Boston or finish their first marathon."
Fargo Marathon
I appreciate races that have diverse programming. This one has a Cyclothon, Dog Run, and a Kid's Race. Great activities for everyone in the family! <3 From the site: We have a very flat terrain around here. Our course has one of the higher percentages of Boston Marathon qualifying times."
Rite Aid Cleveland Marathon
This course was rated one of the Top 15 fastest marathons and Top 15 best spring marathons. With reviews like this, you should check it out. Definitely one of the fastest marathon courses.
Mountains 2 Beach
This race gives you the mountains and the beach. Sounds like paradise to me. From the site: "Starting in beautiful Ojai California, the course begins at just over 700 ft. and gradually descends to sea-level over 22 miles. The course is a lightning fast, USATF certified Boston Qualifier."
September
Revel Big Cottonwood
You will fly through through the canyon with gorgeous views on your side. From the site: "The course is one of the fastest Boston qualifying races in the country. But make sure you train appropriately for this downhill section as downhill running works your muscles differently." Train your glutes and legs to prepare!
St. Luke's VIA
If you prefer lots of shade and varying scenery, this might be the one for you. From the site: The Marathon offers runners the opportunity to qualify for the Boston and is one of the fastest races and flattest marathons in the country. Scenic, shady and a net descent drop of 240' make it a great chance for a PR." This is one of the fastest marathon courses.
October
Steamtown – Fastest Marathon Course
If you want a fast, challenging course, this is it. You can get your PR but you'll need to work for it. From the site: "This has been ranked as one of the nation's fastest marathons. But the significant down hills beat up your quads making it a challenge to tackle the last three miles of the course. Experienced runners will be challenged."
Chicago Fastest Marathon Course
If you like a crowd, you'll have 1.7 million people cheering you on. Soak up that energy! From the site: The Chicago Marathon is known as one of the fastest, flattest marathons. The course has produced four world records, several national records and countless personal bests."
Mohawk Hudson River
W You'll get pleasant fall weather but it's NY so you may need a light jacket. From the site: This is a point-to-point course that is one of the flattest marathons, with a net elevation loss of 370 feet."
December
California International
This is a certified Olympic Trials Marathon qualifier and is one of the flattest marathons. From the site: Our course provides runners of all speeds–from first-timers to the fastest of the fast–the best chance to achieve their marathon goals."
Rehoboth Seashore
The after party includes unlimited food, including mac & cheese, fruit plates, veggie burgers, and beer. Nom Nom. From the site: "This is a certified Boston qualifier and the course is mostly flat with some small hills in Cape Henlopen State Park. You can expect temperatures in the mid 40's."
Completing a marathon is an amazing feat that gives you a sense of pride and accomplishment. The chafing is almost worth it. 🙂
Do you need to cross train for a marathon?
Absolutely. Cross-training improves your running efficiency, reduces the chance of injury, and helps you recover faster. Every week should include core training, and glute specific exercise, and mobility stretches. I also recommend a relaxed bike or swim session bi-weekly. To get the best results from cross training, I suggest hiring a personal trainer. I offer customized workouts for runners and would love to help you set that PR.
Welcome to Fit & Hungry Club! We exercise to love on our bodies. Here you will find everything you need to feel your best. Mobility; Conditioning, Nutrition; and Mindset Tips. If you have questions or suggestions, leave a comment below. I love hearing from you.  xo, angel